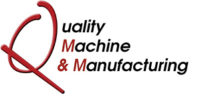 Recently the company name Quality Control & Equipment Company (QCEC), along with the Wastewater Sampler and Flow Meter Lines were sold to Teledyne ISCO.
The product lines for Fish Cleaning Stations, Dry Bulk Sampler Line and STRICKLER Meat Packing Equipment are now under our new company name Quality Machine & Manufacturing (QM&M).
To continue to our new website, please click the button below.